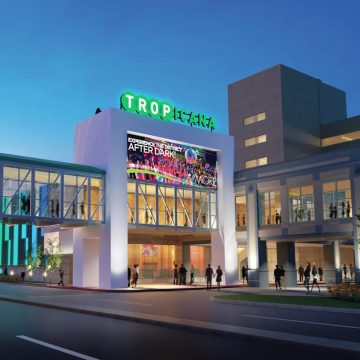 When Tropicana Evansville opens on October 20, it will be Indiana's first land-based casino. The $50 million gaming operation is small by industry standards, but when the Tropicana opens, it will be a landmark.
The Evansville casino represents a break with the past. The Tropicana has been converted from a riverboat casino into a full-conversion, brick-and-mortar casinos. Tropicana represents Indiana's embrace of a new type of gaming economy. In the 21st century, land casinos simply offer more commercial and entertainment opportunties.
Indiana has riverboat casinos in Gary, Hammond, East Chicago, Evansville, and 5 other cities. Several of those establishments — like the Majestic Star casinos in Gary — are old and well-established.
Indiana Gaming Act of 2015
In 2015, the Indiana State General Assembly approved a different kind of gambling establishment. House Bill 1540, also known as the Indiana Gaming Act 2015, changed a number of the state's gambling laws in addition to moving riverboat casinos inland to adjacent properties.
Besides the riverboat law, the HB 1540 specified the process for enterting into state-tribal compacts. The IGA 2015 also set a cap on the number of gambling games offered by a single venue. The cap was set at the greatest number of gambling games a casino has offered since January 1, 2007.
The Indiana Gaming Act also approved table games for Indiana racinos, if approved by the Indiana Gaming Commission. That racino table games law goes into effect in 2012. The cap for gambling games (including single slot machines) on the premises of a racetrack is set at 2,200.
Tropicana Evansville Casino's Games Selection
Tropicana Evansville, which will have 1,040 slot machines, 40 tables games, and poker, is the first of a new wave of brick-and-mortar gaming establishments. At the time, Indiana lawmakers said they wanted a transition from the riverboat gambling industry to brick-and-mortar casinos.
21st century casinos tend to be bigger locations with non-gaming attractions. The idea is to draw gamblers, but also their non-gambler family members and friends. Integrated casinos which offer shows, exhibitions, arcade gaming, and shopping have more paths to revenue. That can be done with land-based casinos, but do not work so well within the riverboat casino concept.
IGA 2015 Legislative Sponsors
State Rep. Thomas Dermody was the main author of the Indiana Gaming Act of 2015. HB 1540's co-authors include Rep. Timothy Brown, Rep. Terri Jo Austin, and Rep. Philip GiaQuinta.
In the Indiana Senate, the sponsors of the Indiana Gaming Act were Sen. Ron Alting, Sen. James Arnold, Sen. Luke Kenley, Sen. Lonnie Randolph, and Sen. Timothy Lanane.
IGA 2015 is administered by the Indiana Gaming Commission. The gaming commission oversees racetrack betting, riverboat casinos, charity gaming, fantasy sports, administrative orders and procedures, and now land-based casinos.
Tropicana Evansville Poker Room
The Tropicana Evansville's number of poker tables should increase over time. For years, the Tropicana Casino had only a handful of card tables. With a full gaming space, management will add a few more of everything, within limits of the gambling games cap.