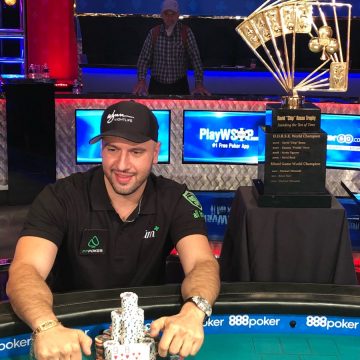 It was a historic evening at the 2018 World Series of Poker on Tuesday night. Michael "The Grinder" Mizrachi lived up to his name as he won his unprecedented third $50,000 Poker Players' Championship bracelet. Mizrachi would finish off his run to WSOP gold by defeating another former champion in the event, John Hennigan, to etch his name on the Chip Reese Memorial Trophy.
Dominant for the Entire Tournament
Starting the day with a massive chip lead – for the third day in a row – Mizrachi still had some adversity to work through at the six-handed final table. Dan Smith emerged as an early contender to his seat on top of the leaderboard, but it was another former champion of this event who would prove to be a thorn in Mizrachi's side. John "World" Hennigan, who climbed into this tournament as a late entry after winning the $10,000 H.O.R.S.E. tournament, snuck up on both men as the afternoon wore on.
Even after Mizrachi eliminated Mike Leah in fourth place, he was still in a dogfight. Both Smith and Hennigan would at one point hold the lead as "The Grinder" fell back into the basement, but he would prove to be worthy of his nickname in making a comeback. In Triple Draw, Mizrachi was able to get action out of Smith on every betting phase when his perfect hand – 7-5-4-3-2, the best hand you can make in Deuce to Seven – eclipsed Smith's hand of 7-6-5-4-2 to take a more than two million pot and the lead.
That was short-lived, however. Hennigan came out of the woods and chopped over a million chips out of Mizrachi, seizing the chip edge, but the Floridian came back against "World" in a Stud hand to recapture the advantage. He then would stretch it out to the point that Hennigan's elimination of Smith in third didn't dent his overall chip lead (12.145 million-to-9.605 million) going to heads up.
Although Hennigan would draw within 500K in chips at one point, he never saw the lead again. Mizrachi took a sizeable advantage during Triple Draw, stretching his chip edge to about 3:1, before ending the tournament in No Limit Hold'em. On the final hand, Mizrachi called off with a pair and a flush draw – his 9♥ 8♥ hitting on a Q♥ 9♠ 5♥ flop – as Hennigan staked his fate with a J-10 for an open ended straight draw. The drama was killed when a 10♥ came on the turn, giving Mizrachi the flush and the championship even though Hennigan caught an eight on the river for an insufficient straight.
1. Michael Mizrachi, $1,293,126
2. John Hennigan, $765,837
3. Dan Smith, $521,782
4. Mike Leah, $364,197
5. Benny Glaser, $260,578
6. Aaron Katz, $191,234
Close but No Cigar for Hennigan
Kudos must also be given to Hennigan. Already a 2018 WSOP bracelet winner, Hennigan went straight from that tournament – the difficult $10,000 Deuce to Seven Lowball – into this one. The result of both of those tournaments, along with some earlier success for "World," has pushed Hennigan into a huge lead in the WSOP Player of the Year race, with Hennigan's 2566.43 points dwarfing the formerly-leading Elio Fox's 2010.14 points.
After etching his name on the Chip Reese Memorial Trophy for the third time, perhaps it is time to consider Mizrachi as one of the greats of the game. Not only has he won this event thrice, he has a fourth-place finish (in 2016) and went out on the bubble just last year. Along with a victory in the WSOP-Europe, Mizrachi has four bracelet victories, two World Poker Tour titles and almost $17 million in tournament earnings in his career. If that's not a legendary career, what is?