Connecticut Gambling Laws - Legal Poker, Betting & Casinos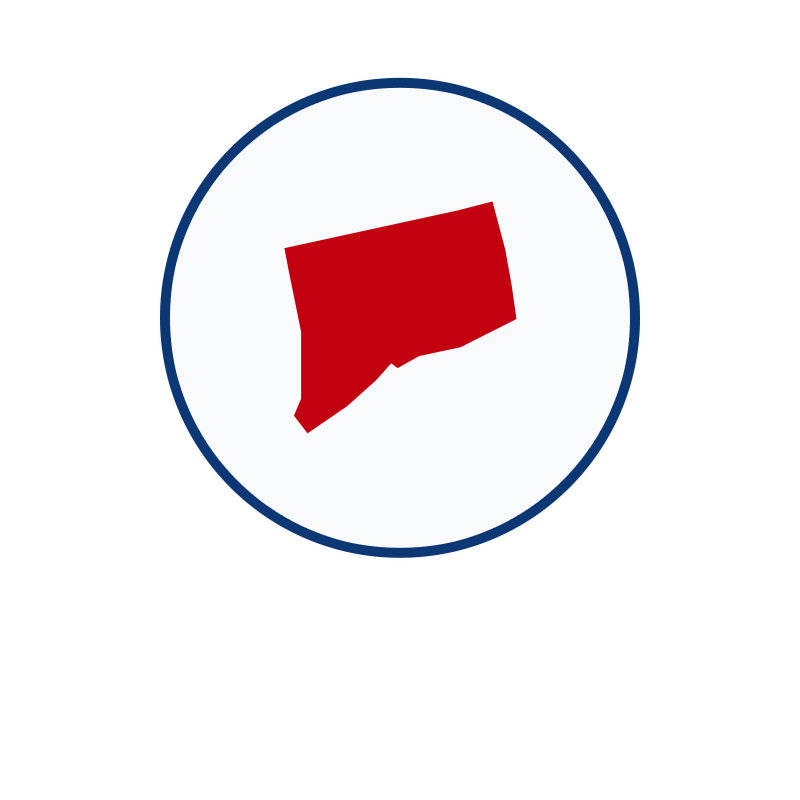 For those poker fans in Connecticut hankering to place a wager online, residents of the Constitution State are signaling an interest in pushing the envelope on online gaming in the very near future. With the exception of New Jersey to the south, Connecticut was the first northeastern state to sanction legal poker rooms and real money style casino gaming.
Looking to expand on these developments, online gambling proponents are hopeful that they can nudge the state into the column of states that have opened their arms to the prospect of legally gambling from the comfort of your own home via an online gaming option.
For industry observers however, they see Connecticut as one of the jurisdictions that have a very realistic option for adopting expansive online gambling play within their borders. To understand the possible results of their proposal, let us explore the social, political, and legal realities within the state.
Parsing through numerous factors, we quickly come to understand that the wishes of competing stakeholders, including state officials and tribal leaders, who are pushing for expanded brick-and-mortar establishments along the Massachusetts border, is a hurdle that online proponents of are looking to circumvent in their push to add Connecticut's name to those of New Jersey, Delaware, and Nevada as states with regulated online gaming options.
Connecticut Gambling Laws
Connecticut's position on gambling is that it is illegal unless the state gives its expressed blessing. Additionally, state legislators defines gambling as "risking any money, credit, deposit or other thing of value for gain contingent in whole or in part upon lot, chance, or the operation of a gambling device". Real cash poker is grouped with traditional casino games and table games, and is clearly considered gambling.
As of 2017, here is a brief rundown where gamblers legally stand when gaming in Connecticut:
Casino Games— the state's two tribal casinos, Foxhounds and Mohegen Sun Resorts offer an array of casino style games ranging from table games to slot machines to placing bets on pari-mutuel horse racing.
Sports Betting— Thanks to federal legislation under the Professional and Amateur Sports Protection Act, most forms of sports betting is illegal in Connecticut. Residents can place wagers at on-track horseracing and greyhound races although the former has fallen out of favor, across the nation, for ethical concerns related to the care of the dogs.
Lottery Betting— Connecticut allows its residents to participate in a statewide lottery with inter-state compacts featuring multistate winning pools in the millions.
Bingo Games— Is not only legal for the typical charity purposes of most states, but Connecticut's legal code also allows for games that specifically aimed at elderly denizens of the Nutmeg State involving games offering winnings of less than $5.
Live Poker— Live poker is readily available at one of the state's two Indian Casinos, which hosts prestigious tournaments that draw poker players from all over the country. Additionally, state law allows for home play style games operating under the legal rubric that "nobody profits" from the game.
Online Casinos and Poker— Although tribal leaders at Foxwoods are keen to see Connecticut become the fourth state to regulate the online gambling market, after Delaware, New Jersey, and Nevada, online poker and gambling is illegal in Connecticut. That being said, many Connecticut players easily can access offshore-based sites to scratch their online poker-playing itch.
Connecticut has shown an enthusiasm for regulating gambling operations that they believe will add money to state coffers through both tax revenues and tourist dollars. Many believe that the Constitution State will be the next jurisdiction to endorse a plan to regulate online gambling and poker play.
Connecticut Online Poker Laws
While Connecticut's legal statutes do not refer to online gambling and poker play directly, state officials agree that the language of their existing laws covers the topic adequately. In addition to their legal stance that "gambling is illegal unless they specifically sanction the activity," the state also has a transmission law that makes it illegal to send or receive information with respect to any wager placed for professional gambling. While this wording seems to close the door on online casino style games, it does open a window for the entry of online poker play.
As it stands however, when it comes to online gambling, the practice is probably considered technically illegal in Connecticut. As with every other state in the nation, players in Connecticut can readily access offshore gambling sites on the Internet for online poker play.
Under the Unlawful Internet Gambling Enforcement Act (UIGEA), passed in 2006, online websites are prohibited from processing any payments related to online gambling activities. Connecticut players looking for a game have only to identify offshore sites willing to accept American players, which is the norm for players in the 47 states that have not regulated online gaming.
There is no instance of governmental authorities going after individual players; there is simply no framework to track such activity for enforcement purposes. Indeed, regulations developed under the UIGEA targets only the banks and credit cards that process payments for online gambling options.
Is it Legal to Play Poker in Connecticut?
Players in the Nutmeg State who are looking for a legal place to play a hand of poker have a couple of available options. As mentioned above, gambling is defined under government statutes in Connecticut, at least in part, as a game of chance, and many players view poker as inherently a game of skill with some studies suggesting chance plays only 12% of successful poker play while the lion share, 88%, of victories are based on skill.
First, legal poker games are available at any of the state's licensed tribal casinos. These fully sanctioned facilities offer an array of options including Texas Hold 'em and other games of skill. In fact, the casinos host prestigious poker tournaments that are a draw for players throughout the northeast.
Foxwoods Resort offers more than 9,000,000-square-feet of gambling space with over 350 gaming tables with such favorites as blackjack, craps, and poker tables. With more than 4,700 slot machines on hand, players don't need to stand in line to play their favorite games.
For those Connecticut residents unable to get out to the nearest casino, state law lets them invite any number of friends over for a game of social poker. Under the state's provisions, the law exempts players from punishment for gambling when such action is "incidental to a bona fide social relationship, and participated in by natural persons only." While Connecticut case law fails to clarify this awkward phrasing, it is generally agreed that it means the players are on an equal social footing when playing the game. Finally, Connecticut has carved out a space for charitable gambling within its legal statutes that includes poker.
Will Connecticut Regulate Online Poker?
In terms of the question regarding whether or not Connecticut will move towards the regulation of online poker, the answer is most certainly yes, but the question remains a matter of timing. Two factors are standing in the way of immediate implementation. First, state officials are signaling a "no hurry" attitude in terms of moving forward on advancing online poker legislation.
While they wait their turn at the regulatory wheel, these officials are keeping a sharp eye open on New Jersey's growing pains in the aftermath of its regulation of online gaming. As small states, Connecticut and New Jersey risk playing from a too small of a gambling pool. New Jersey is in negotiation with Nevada to establish an inter-state compact that allows each state's players to gamble on the other's network.
Another issue with advancing online poker in Connecticut, in the short term, is the focus of local gambling interests is pushing for an additional tribal casino situated on the Massachusetts border to better help draw in players from The Bay State. While eventual expansion to the online market is definitely on their platter, they want to focus first on the brick-and-mortar efforts on the ground. Once the tribes are ready to pull the trigger on online gambling however, they have already began the process of establishing
While it might seem as if the state is inching towards online poker regulation at a snails pace for impatient poker players in Connecticut, industry watchers believe that their wait won't be that long with probable regulation as soon as 2019.
History of Gambling in Connecticut
Games of chance were popular in Connecticut before the nation's Founding Fathers put pen to the Declaration of Independence. This permissive practice continued into the state's early days where lotteries were held to help fund a range of improvement projects. While this practice continued well into the 19th-century, it wasn't until well into the 20th-century before the state began their own regulation of a statewide lottery in 1972.
The 1970s also saw the beginnings of rumblings towards the establishment of Indian casinos, which would see fruition with the 1986 opening of Foxwoods, as well as offering off-track horse betting and pari-mutuel betting that is popular to this day.
References