Illinois Gambling Laws - Legal Poker, Betting & Casinos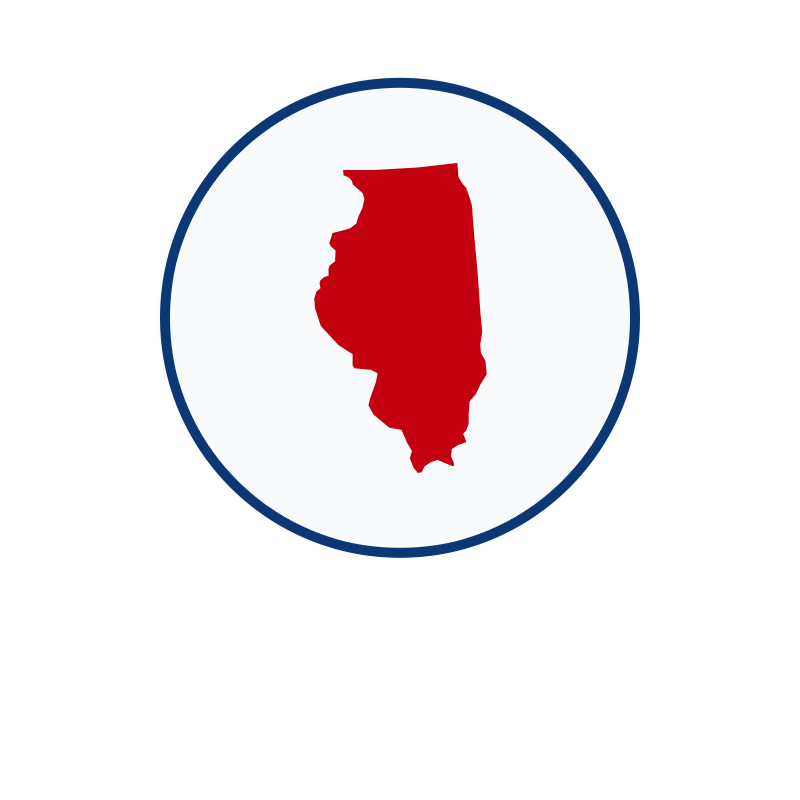 With its rich economic activity ranging from coal and timber deposits in the south, rich agricultural lands in the state's center, and dense population concentration around the greater Chicago area, Illinois is an economic powerhouse that anchors the entire Midwest, and enjoys fairly permissive views towards gambling. These demographics and economic factors combine to make the Prairie State a potential gambling Mecca in the center of the American heartland in the very near future. To understand these developments, let us explore the legal gaming options currently available to Illinoisans, moves towards regulating the online poker market, and a brief history of gambling in the state.
Illinois Gambling Laws
Illinois is just a handful of states that details in their legal code the circumstances under which casino-style games and poker gambling is permitted within Springfield's jurisdiction. Specifically, Illinois legislators have green lighted an array of gaming options from the state lottery to pari-mutuel wagering to bingo for charitable purposes.
Under Illinois statutes, a person engaged in knowingly playing a game of chance or skill, operating an unlicensed lottery, owns or operates a gaming device, or making a wager on the outcome of a game of chance, skill, or political elections is guilty of a misdemeanor. That being said however, the state has carved out numerous legal niches where gambling is allowed under legal regulations.
Specifically, exceptions include:
Raffles
Bingo
Pari-mutuel betting
Riverboat casinos
Video gaming
Scratch tabs
State lottery
In short, when it comes to gaming, pretty much everything goes in the Land of Lincoln except for laws targeting sports betting and internet gaming. Gaming at the dog track fell by the wayside owing to a host of economic and ethical factors beginning in the 1970s, the Illinois Horse Racing Act authorized pari-mutuel wagering; Illinois is one of the few states that have also gone out of its way to define the term "Internet" within its legal code for restrictive purposes:
"Internet" means an interactive computer service or system or an information service, system or access software provider that provides or enables computer access by multiple users to a computer server, and includes, but is not limited to, a World Wide Web page, newsgroup, message board, mailing list, or chat area on any interactive computer service or system or other online service.
When it comes to staking out a claim on the meaning of an online gaming definition, the legislature in Springfield is leaving nothing to chance.
Illinois Online Poker Laws
Needless to say, the state utilizes its legal definition of gambling to maintain a statewide ban on the practice of playing online casino and poker action.
Specifically, a person commits an illegal gambling act when he or she, "knowingly establishes, maintains, or operates an Internet site that permits a person to play a game of chance or skill for money or other thing of value by means of the internet or to make a wager upon the result of any game, contest, political nomination, appointment, or election by means of the internet."
For the casual player however, the language of the passage clearly aims its regulatory ire towards those who operate online sports betting and casino outlets without legal sanction. In 2009, Illinois banned any one from operating an internet-based wagering service of any type. Like most jurisdictions however, the State of Illinois has no record of prosecutors going after individual gamblers, so online poker players in the Land of Lincoln can safely gamble on any site based physically outside the State of Illinois.
Is it Legal to Play Poker in Illinois?
When it comes to finding a legal game of poker to play in Illinois, there are a myriad of options available for a chance to bet on your favorite game of skill. The Riverboat Gambling Act of 1990 opened the door to legalized gaming options for players in the many river towns that were struggling in uncertain economic times.
The Act established the Illinois Gaming Board, which was empowered to license up to ten casinos at any one time. A boon to local economies and a great place to play for thousands of gamers, these casinos are confined to the water, but permanently moored to Terra Firma so as to be indistinguishable from land-based gambling operations.
The Video Gaming Act of 2009 allowed for video gaming options at such locations as restaurants, bars, and truck stops, which simulate blackjack and poker play. Once again, in reaction to a national economic downturn, the Great Recession, the Video Gaming Act opened up a veritable cash box for struggling businesses.
Less than a decade into the experiment, Illinois hosts more than 21,000 machines in over 5,000 businesses throughout the Prairie State, which amounts to the gaming equivalent of an additional 17 casinos according to an Illinois Gaming Board estimate.
It would be a mistake to assume that the state is the "Wild West" in terms of unfettered gambling. State gambling officials pushed back against overreach as late as 2015 when they banned the practice of adjacent gaming facilities dotting otherwise empty strip malls. Regulators viewed such close proximity as tantamount to "back-door casinos" in their ruling that effectively banned the practice of these casino malls.
Will Illinois Regulate Online Poker?
As the array of gambling options in Illinois proves, the Prairie State is not averse to capitalizing on the income that such a relaxed position brings to the state's General Fund. The question at hand regarding the regulation of online poker, and debated in the corridors of power in the state capital, is whether or not another additional gaming expansion would even add any appreciable money to the state's financial coffers.
Some fear that Illinois has already reached the saturation point in regards to the amount of money they can wring out of the gambling game in the state. According to the General Assembly's Commission on Government Forecasting and Accountability, tax revenues from gaming not only fell flat, but actually decreased by nearly six percent in 2015.
Indeed, riverboat casinos, horse racing, and lottery sales all took a dip with video game sector the only one to pick up players. The consensus among naysayers to an online gambling expansion note that the performance, as represented by new tax revenues, suggests that rather than expending the number of gamblers in Illinois, the inauguration of video game style games merely rearranged the existing pool of gambling dollars without driving in any new gamblers.
If a new gambling sector is added, such as online poker regulation, with the only result of cannibalizing the already existing player pool, any expansion would see little financial windfall landing in the state's coffers argue opponents.
On balance however, and once state lawmakers fully parse through the financial advantages of regulating online poker play, Illinois is well poised to make the move towards regulation. In fact, some advocates believe that such legislation could appear as early as end of 2017.
Illinois is on the short list of states that could make the move towards regulated online poker. With its population of thirteen million, it could definitely provide a large enough pool of players to make game play exciting. Additionally, since the state already offers online lottery playing options for its residents, the framework already exists to accommodate an iGame platform.
History of Gambling in Illinois
Gambling was an established part of frontier culture long before the 1818 entry of Illinois as the ____ state in the Union. Indeed, French trappers, British traders, and American settlers betted on an array of different sporting events and games of skill. Horseracing was extremely popular throughout the period, and Abraham Lincoln achieved notable fame as a wrestler in the new state with sizable wages placed on his physical prowess.
References