Maine Gambling Laws - Is Online Poker Legal?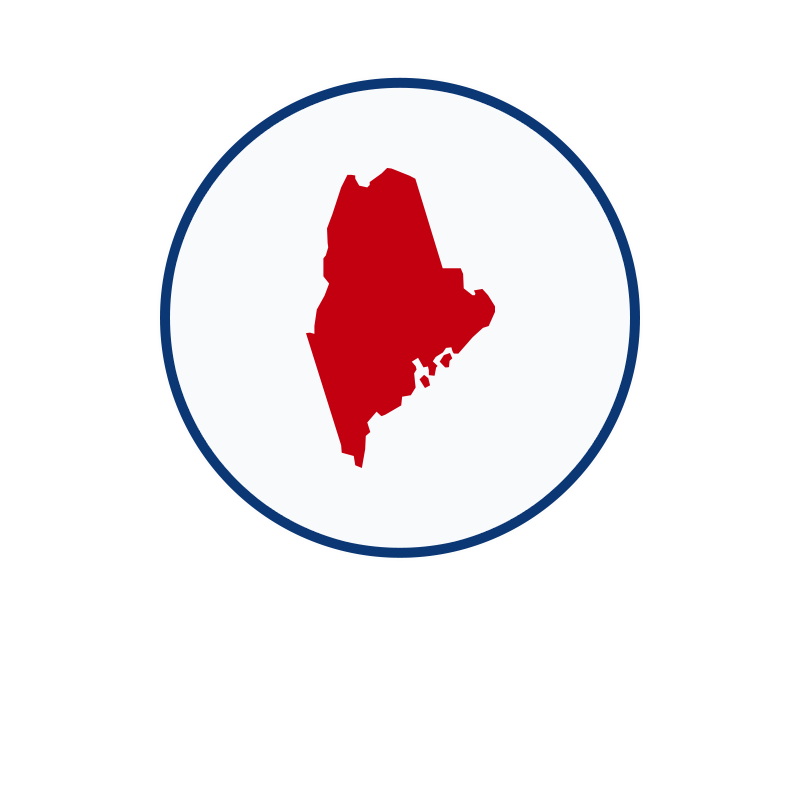 Maine has earned its reputation for charming seaside villages and rugged coastal visages. That being said however, while it is not generally considered a hotspot for gambling activity; they have roundly earned that reputation as well. Remarkably strong conservative currents flow through the Pine Tree State that serves to block any organized efforts to establish anything close to a regulated gambling industry beyond the handful of small casinos that they currently enjoy.
While the gambling fields are not overtly fertile in the Pine Tree State, Maine's legal code has carved out a number of interesting niches for small-scale poker action from the aforementioned casino action to social gambling regulations that offer the chance for friends to congregate over a friendly game of cards.
Beyond these poker venues, the state has moved over the years to allow pari-mutuel horse wagering, a statewide lottery, and bingo betting for charitable purposes when properly licensed. High stakes bingo is available at special bingo casinos on tribal lands.
Like most state jurisdictions in America, Maine's legal code does not address the question of the Internet, as the bulk of their statutes were penned long before any one contemplated wagering online. This ambiguity allows for players in Maine to access USA facing poker sites that happily accepts applications and accounts from Maine residents.
Maine Gambling Laws
Legislators in the state capital at Augusta have drawn up a comprehensive legal definition of the word gambling. Under the state's legal code, gambling is defined as:
"A person engages in gambling if he stakes or risks something of value upon the outcome of a contest of chance or future contingent event not under his control or influence, upon an agreement or understanding that he or someone else will receive something of value in the event of a certain outcome."
For those hanging on to the distinction that prohibition against games of chance somehow exempts poker play, which players consider a game of skill, Maine's legal code places a kibosh on the notion with the following clarification:
"For the purposes of this subsection, 'an event the result of which is determined by chance,' includes but is not limited to the shuffle of a deck or decks of cards, a roll of the dice, or a random drawing or generation of an object not limited to a card, dice, or any simulation of these gambling devices."
Since even the most vocal proponents of those who agree that winning at poker demands a substantial element of skill, they can't deny that a hand of poker's eventual outcome does rely on a certain level of chance.
As with just about every other state however, these statutes are almost universally aimed at those who run and operate the illegal game than individual players.
In terms of regulated forms of gambling, Maine, like many jurisdictions, opened the door with pari-mutuel wagering on harness races before yanking the door open further with a state-run lottery in 1972. Also, like other states, the Indian Gaming Regulatory Act of 1988 further wedged open the gambling opportunities in Maine.
For those thinking that Maine will replicate the experiences of New Jersey, Delaware, and Nevada in moving towards a regulated online poker market, there is very little to suggest that that transition will be coming soon.
Main Online Poker Laws
As mentioned, when it comes to codifying its legal position regarding its stance on online gambling and poker, Maine has not staked out a claim one way or another in its revised statutes. Indeed, as applied to poker it does not refer to the Internet fashion..
Working with what we know about the status of Maine's poker laws, and their focus on the owners and operators over individual players, it would be evident that by the strictest letter of the law, online poker would be considered illegal.
Conversely, others argue that owing to Maine's silence on the issue, this serves as an implicit nod to the practice by dint of its ignoring the topic. In fact, this is an argument in most states looking to push the envelope forward on regulated gaming and poker online.
For Pine Tree State residents, this grey legal position affords them the legal cover to play the game of skill of their choice including such favorites as Texas Hold 'em from the comfort of their living room couch.
Players fearful of federal overreach in enforcement have little to worry about because national legislation addresses its regulatory ire at the facilitators of online gaming rather than individual players.
Under the Unlawful Internet Gambling Enforcement Act (UIGEA), passed under President George W. Bush, the federal statute notes, "prohibits gambling businesses from knowingly accepting payments in connection with the participation of another person in a bet or wager that involves the use of the Internet, and that is unlawful under any federal or state law."
The intent of the new law was clear; the law's intent was to curb online gambling by making it illegal for financial groups and banks to process money that derived from gambling activity. The belief behind the measure was that if you could turn the tap off the funds, players and operators would have no reason to continue gambling.
As mentioned, there is no record of any online poker player being prosecuted within the United States either at the state of federal level..
Is it Legal to Play Poker in Maine?
It is most certainly legal to play poker in one of Maine's regulated commercial or tribal casinos, and with two of each type distributed around the state, it shouldn't be that far of a drive as the crow flies. With more than 1,700 slot machine style games available, poker players have a raft of video poker options.
Live poker table spots are at a premium in the Pine Tree State, however. Of the five casinos, there are currently only 38 tables in operation offering a game of their favorite cards. That being said, players who find a seat can avail themselves of
Poker fans will be found queuing up to the Hollywood Casino in Bangor, for instance, which offers table games slots and poker, but the Hollywood Casino offers only four tables for poker.
To alleviate some of the stress at the limited table offerings in the Pine Tree State, leaders in Augustus have carved out a social gaming platform that legally allows friends to congregate for a legal game of poker. Under the regulations, the game is considered legal if no single player stands to benefit materially from organizing and hosting the game.
Will Maine Regulate Online Poker?
For the betting man wondering if or when Maine will regulate online poker, they might be better served by pulling their chips off the table. On the con side, there is simply no conversation of any type on the subject, and state legislators seem perfectly happy watching the development of the handful of land-based casinos they are already regulating before casting their view towards online poker regulation.
As mentioned, there is a strong streak of conservatism coursing through the rugged inland valleys that make up the demographics of the state, and any moves forward also face the opposition of those existing casinos fearful of losing their share of the state's betting pie.
As with many state jurisdictions, Maine will probably only be pushed towards regulated online gambling when the state's coffers need refilling, or in the event of any unforeseen economic downturn. Serving as a guide in their eventual decision, Maine's leaders will undoubtedly be watching their nearby neighbors, Delaware and New Jersey, which have already legalized regulated online poker.
The Pine Tree State also faces a serious demographic challenge for a successful online gambling platform. Maine only claims 1.4 million denizens within its borders, so they will need to look to interstate compacts to help flesh out their player's pool. New Jersey and Nevada has already penned a deal to allow for their citizens to share and play on each other's networks.
Should Maine leaders note the financial advantages of adopting online gambling regulations to help balance their budget, you might see the state move into the column of states that have adopted online regulation.
History of Gambling in Maine
When you live in a state four-fifth, or 80%, covered with its namesake tree, the Eastern White Pine, Maine is one of the most rustic, isolated states in the nation. Offering picturesque locations and scenic vistas, the state as a whole has not embraced gambling in its legal codes or early history.
Indeed, whereas most states jumped on the "horse racing" and wagon during the economic crucible of the Great Depression, as a way of raising needed revenues, Maine did not pull the trigger on regulated horse racing until a generation later in 1950.
In that year, Scarborough Downs opened as a harness racing venue featuring a half mile track open, and live horse betting nine months out of the year.
It would be another generation, the 1970s, before gambling advanced any further in the Pine Tree State. Specifically, 1973 witnessed the opening of Penobscot Bingo Hall that exclusively offered high stakes bingo in the state. The following year saw the introduction of the Maine State Lottery following a statewide referendum on the topic. It wasn't until the 2000s that Maine began itching its way into the regulated commercial and tribal casinos market, but their expansion has been measured and slow.
References