Kentucky Poker Laws - Legal Gambling, Betting & Casinos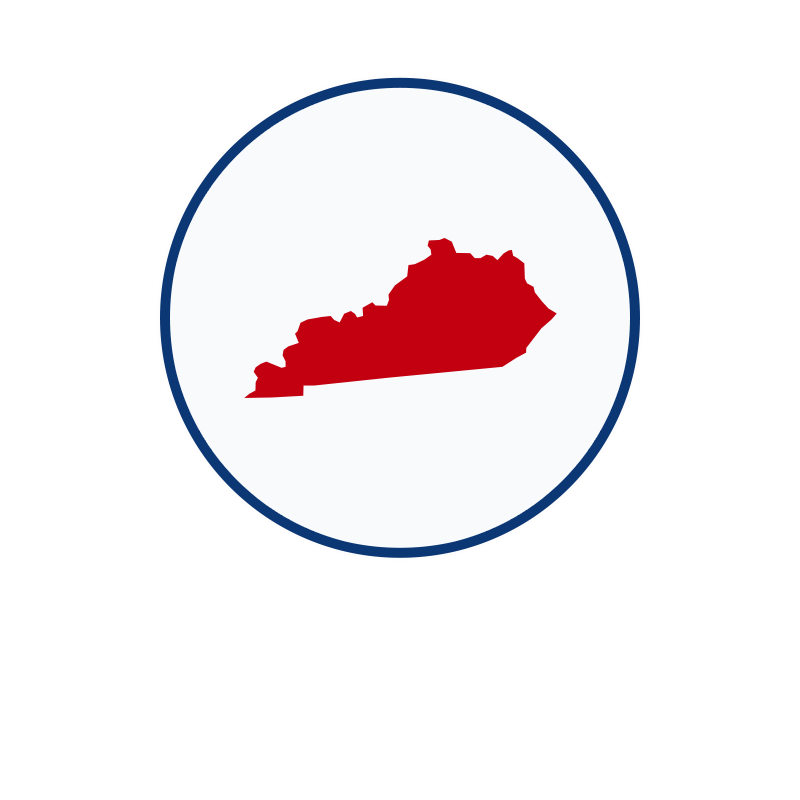 While we all understand the concept of horsepower, that term takes on an entirely new meaning in the Bluegrass Country of Kentucky when it comes to the establishment of gambling venues outside the purview of the state's powerful horseracing industry. Home to the nation's premiere racing event, the Kentucky Derby at Churchill Downs, the horserace industry exerts a powerful lobbing force in the halls of power at the state capital in Louisville. Consequently, if you are anything other than a horse racing fan, your pickings are pretty slim for finding legalized, regulated gaming opportunities in Kentucky.
Interestingly enough, should the racetrack ownership see the advantages of moving towards other regulated forms of gambling, this mindset change could alter the Kentucky gambling landscape overnight. Numerous bills have moved through the state legislature, and the parade of Kentuckians crossing the Ohio River to enjoy legal casino style gaming in their northern neighbor, Ohio, would suggest that there is a public will within the Bluegrass State to expand regulated gambling opportunities.
Understanding Kentucky's legal stance regarding online and live casino action means knowing the motivations of powerful political and economic forces that control the legalized gambling conversation in Kentucky. We will explore both the definition and the particulars of Kentucky's unique state gaming laws before taking a look at what the future holds for the regulated online poker market.
Kentucky Gambling Laws
When it comes to crafting laws against gambling within the boundaries of the Blue Grass State, the Kentucky Revised Statutes takes pains to define what it considers its most serious offence, "Advancing Gambling Activity." Organizers of gambling games "advance gambling activity" when they knowingly:
Conduct directed towards stabling a game
Buying, renting, leasing, or the maintenance of property for illegal gaming
Acquisition of equipment, paraphernalia, or apparatus to facilitate gambling
Solicitation of others to participate in illegal gaming
Processing of any financial transactions related to gambling
So that there is no mistaking what Kentucky lawmakers view as gambling, the Kentucky Revised Statutes means the "staking or risking something of value upon the outcome of a contest, game, gaming scheme, or gaming device which is based on an element of chance [wherein] someone will receive something of value based on a certain outcome."
Gamblers inside Kentucky have ready access to horse race wagering as might be expected in a state that's history is so entwined with the breeding of exquisite equestrian lines. In addition to world renowned racetrack venues, Blue Grass denizens can also place a pari-mutuel wager throughout the state. After all, fancy hats and a fast horse only carries the entertainment value so far, which is why the Kentucky Derby is one of the most wagered upon races in the world.
Beyond that however, Kentucky's legal code offers little more than the state lottery, social home poker games, and charitable gaming for worthy causes. There are no authorized land-based casinos, either commercial or Native American, within Kentucky's jurisdiction, so residents are known to frequent the gambling facilities of neighboring states.
Kentucky Online Poker Laws
Kentucky as a fascinating history regarding its come hither approach to flirting with online gambling and poker regulations, but considering they are unable to marshal the political will to pull the trigger on land-based casinos, it is reasonable to assume that the state will not be on the short list of near term regulation.
As it stands, the only wager that can be placed online legally in Kentucky is betting on the ponies from various websites that are already given the nod to accept pari-mutuel betting. As such, this framework conceivably leaves a window open to move into the regulated online gambling space, current wording in the Kentucky Revised Statutes fail to address the question.
As mentioned above, the legal statutes of Kentucky roundly condemns those who knowingly "advance gambling activity," this wording would seem aims at the owners and operators of online gambling sites rather than choosing to go after individual players. Wielding the chance versus skill card as it relates to the playing online poker, an argument can be made that online poker playing skirts the Bluegrass State's strictures on games of chance. That being said of course, since Kentucky statutes outline no penalties for individual players, it is unlikely that this defense would ever be required before a judge.
As an example of the state's determination to target online providers who would serve to be "advancing gambling activity" in Kentucky, then-Governor Steve Beshear's administration moved forward, in 2008, with an attempt to seize in excess of 140 domain names that were identified as allowing Kentucky residents access to online gambling sites.
Claiming that these sites contravened existing Kentucky law by conducting illegal, unregulated gaming sites, the governor's opinion was later overturned during a subsequent legal challenge in a Kentucky court room.
As is always the case with online players, enforcement does not seem to target the individual gambler, and that is even more the case in this state, which has no legal penalties for individual palayers, so Kentucky players can try their hand at online poker on whatever offshore, U.S. facing website will accept their application to play.
Is it Legal to Play Poker in Kentucky?
While it is illegal to organize a game of poker in the Blue Grass State, playing and participating in the game is not penalized under Kentucky's legal code. Finding a game is another matter however, owing to the fact that the state has no sanctioned, regulated casinos in the state. Indeed, neither commercial nor tribal casinos are allowed to operate anywhere under Kentucky's jurisdiction.
Residents can participate in charitable gaming under Kentucky's legal code, and legislators have carved out similar legal ground as other states by allowing social gambling laws that mandate that as long as no one at the poker table has an undue advantage over the other players because they set up the game.
Finally, the grey area that is the Internet allows access for Kentuckians looking to play online a poker with an outlet that, while possibly illegal under Kentucky's legal statutes, are not enforced or prosecuted at the player level.
For the short term, those players in Kentucky who want to experience the excitement of real, casino style play, they will need to wait some time or consider a road trip over the Ohio River to scratch that poker playing itch.
Will Kentucky Regulate Online Poker?
Since the state can't seem to garner the political resources to break ground on traditional brick-and-mortar casinos within the state, the legality of which has never been questioned, taking the lead towards regulating the online poker market seems unlikely.
As mentioned, the state's leading industry, the professional racetrack operators, have a vested interest in keeping regulated online gambling play out of the reach of Kentuckians. To ensure this outcome, they also have deep pockets to pull the cash they need to influence state legislation against the idea of any type of change to the long standing status quo.
Fear that they might not enjoy a monopoly over any new casino formation, in general, and subsequent control over any online platform developed for the state, racetrack owners are recalcitrant to give up their favored position in Kentucky's gambling world. Should their financial calculus change however, racetrack owners will play a critical role in the passage and implementation of any online gambling regulation that passes in the state legislature.
As an indication of public sentiment, bills seeking to expand gambling opportunities in general, are routinely making its way through the legislative branch. For those looking at a potential timeline for the eventual regulation of the online gambling market in Kentucky, that timeline might seem to stretch on into infinity because of the strong forces arrayed against any such measures.
History of Gambling in Kentucky
While gambling was a staple of the frontier communities of early Kentucky, the most colorful time in the Blue Grass State's gambling history began in the 1920s, and its rise was concomitant with the rise of bootlegging during the prohibition era extending throughout the depression era of the 1930s.
Gambling dens and speakeasies proliferated in Kentucky along the Ohio border, and the nexus for illicit behavior was clustered in the Kentucky hamlet of Newport, which situated directly across the river from Cincinnati and under the control of that city's underworld criminal elements.
Competition with rival gangs based out of Cleveland witnessed violence, murder, and arson as one group vied with another in the battle for rich gambling and alcohol revenues. Public sentiment turned against the illegal gaming houses, and their attendant social problems, and state officials moved in to close down card rooms of every stripe.
As the casinos around Newport began growing in earnest, the famed Churchill Downs, built in 1875, began accepting pari-mutuel betting in the 1920s, and the cultural, financial, and political landscape in Kentucky never looked back as the industry built a near mythical reputation in the state's self appraisal of itself.
To date, with the exception of pari-mutuel wagering, participation in the state lottery, and various charity-based gaming opportunities, Kentucky is a veritable wasteland when it comes to regulated gaming options.
References