Mississippi Poker Laws - Is Online Gambling Legal?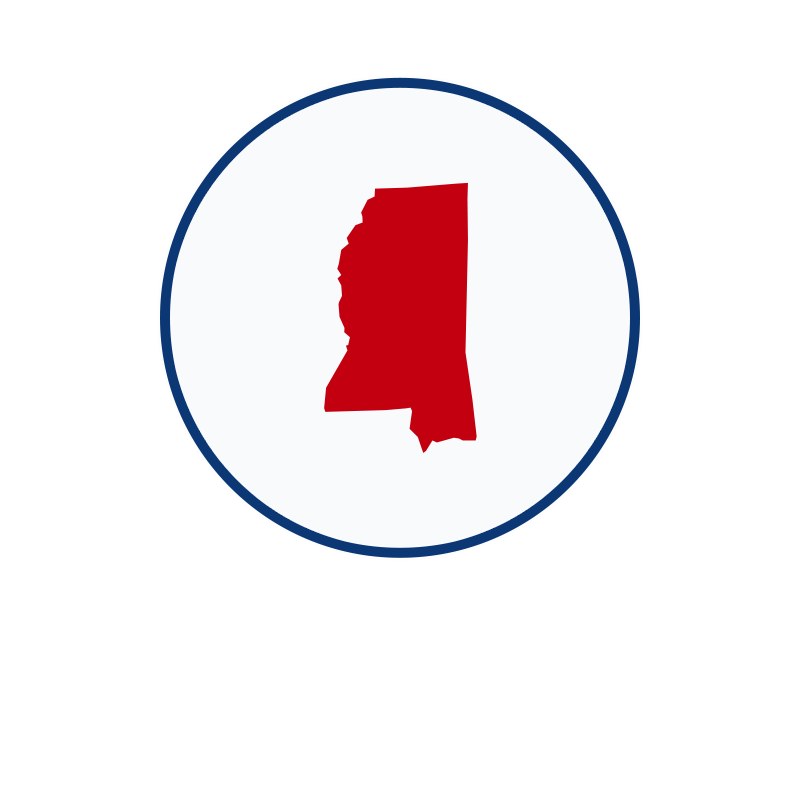 A rich history of gambling that long preceded Mississippi's entry into the United States forms the cultural background of modern day Mississippians. The archeological record is replete with evidence that Native American tribes in the area engaged in games of chance and skill, including a competitive form of stickball that attendees would wager on as to what team would win, and French traders to the area were known for their fondness for games of card and dice.
Additionally, horseracing was a favored pastime that was valued as much for the winning wagers as for the equestrian culture that arose around the equestrian contests. Indeed, settlers built the first racetrack in the 1790s, and Mississippi proved a popular destination point for visitors throughout the 19th-century.
Situated along the muddy banks of its namesake, the Mississippi River, steamboat gambling is near synonymous with the state thanks to, if nothing else, the literary efforts of Mark Twain. Regardless, the state has enjoyed more than two centuries worth of gambling history that carries on today with an especially heavy casino presence along the state's Gulf Coast.
While the current legal code of Mississippi is obviously permissive to the idea of regulated gambling, it resides in a legal grey zone regarding online gaming, which offers a chance that the state may move towards regulation of the online gambling market. For now, let us examine the legislative record of the Magnolia State while exploring the opportunities for on the ground gambling in Mississippi before speculating on the likelihood of online regulation in the near term.
Mississippi Gambling Laws
Under Mississippi gambling statutes, the state criminalizes "playing at any game" for "money or other valuable thing," which is not otherwise approved by state leaders in Jackson. Under the law, it is illegal to participate in unregulated games such as:
Faro
Blackjack
Roulette
Keno
Craps
Poker
Baccarat
Slot machines
In an interesting turn of jurisprudence events, Mississippi legislators further penalizes those engaged in illegal gaming by adding any money won in the form of an additional separate fine, so players can only hope that a raid hits on a losing night.
Even the most cursory reading of Mississippi's legal code would suggest that aside from state sanctioned gaming, gambling in the Magnolia State is an illegal act. A quirky wording has opened the door on live gambling action, however. As a codicil to the above prohibition against betting or wagering on anything of value, the state makes an exception if said wager takes place on a "vessel" over water.
Understandably, notions of what constitutes a "vessel" for these purposes are broad, but it would be a mistake to assume that you will see any of these "vessels" in the local regatta. What you will see however, is a flotilla of floating casinos stretching from the banks of the Big Muddy down to the turquoise waters of the Gulf Coast.
While Mississippi eschews a state regulated lottery, and similarly bans racetracks, the dozens of tribal and commercial casinos more than fills the void for regulated gambling and poker options in the state.
Mississippi Online Poker Laws
Owing to the letter of Mississippi law, since the state has not regulated the online gambling market, and the online poker market is not floating over water, online gambling would certainly fall under the category of banned gambling activity.
Although not mentioned specifically, as regards gambling, in the state legal codes, the mere act of participating in the wager on the Internet would be banned under the law. Needless to say, like every other state in the nation however, enforcement against casual players is nonexistent with no known prosecutorial efforts filling Mississippi's court dockets.
Additionally, since there is a myriad of offshore, US accepted websites, outside the jurisdictional reach of lawmakers in Jackson, Mississippi, Magnolia State denizens have ready access to an array of casino style games from slot machines to tournament-style poker games. Through lack of enforcement, offshore sites have few qualms about accepting Mississippi applications to play.
Consequently, Magnolia State players have less hesitation to sign up for accounts that let them play their favorite poker game over the Internet. Garnering popularity across the country and in Mississippi itself, there is definitely a public will to move towards online gambling regulation, but little political will to bring a bill to fruition.
Is it Legal to Play Poker in Mississippi?
Under the right circumstances, specifically within state sanctioned commercial or tribal casinos, playing poker is legal. Live poker games are alive and well in the Magnolia State with thirty commercial casinos moored along the state's waterways.
Of the thirty available gaming facilities, more than half feature poker rooms for fans of mixing skill with heir game of chance. Representing a broad geographic range from Vicksburg to Biloxi to Saint Louis to Greenville and Natchez, these poker rooms tend towards the smaller size with up to sixteen tables each.
These games are real cash affairs offering all the excitement of Las Vegas, Nevada or Atlantic City, New Jersey. Additionally, they are the frequent hosts of tournament play that drives significant high stakes action all along the Mississippi Delta.
Social gambling, including sitting around the living room table with friends over a few hands of poker is illegal in Mississippi, but one must wonder whether dealing that deck of cards from the deck of a houseboat would fall within acceptable legal bounds by state authorities. Regardless, the players of home games are simply not a priority for Magnolia State law enforcement officials.
Will Mississippi Regulate Online Gambling?
While the last couple of election cycles have been fairly quite regarding online gambling regulation, Mississippi has not been absent on the conversation regarding whether or not the state should move forward with expanded casino offerings.
A 2015 bill entitled, "Mississippi Lawful Internet Gaming Act of 2012" sought to establish a framework under which the state could move forward with establishing procedures for licensees, applicants, internet service providers, as well as employees and players.
Unfortunately, for online poker proponents however, the measure failed to make it through the state powerful Ways and Means Committee before dying an ignoble death in committee. With its population of nearly three million citizens, either Mississippi can support an expansion of the online gambling pool on their own, or through interstate compacts that see the pooling of each state's players and networks such as was negotiated between Nevada and New Jersey.
Despite its vibrant water-based, adjacent to land gambling industry, regulated gambling brings more than $2 billion dollars into the state annually, but a recent spate of casino closures has state officials and industry watchers wondering whether or not further expansion might be in the cards, as it were, for the Magnolia State.
While it is highly unlikely that Mississippi will be joining New Jersey, Delaware, and Nevada in the wholesale adoption of real-money poker regulations, proponents may have a powerful ally in the state's existing casino owners.
Admittedly, while this group has traditionally represented more of a hurdle than a "hand's up" in the online gambling regulation fight, economics could easily change their calculations. Already amenable to the harnessing of electronic technology for gaming purposes, this group's support will hinge on the profitability factor as they see more and more Mississippians heading to nearby states for their gambling opportunities.
History of Gambling in Mississippi
Long before a European style boot set foot in the Mississippi Delta, the region's native inhabitants, the Choctaw and Chickasaw tribes were well known for their fondness for gambling. For wagering purposes, a favored game was stickball, which was a highly competitive and combative sport that bettors would wager on based on what team scored the highest numbers of goals.
Colonists brought cards and dice games to the delta packed in their baggage, and by the 19th-century rolled around, gambling was an established part of Mississippi's aristocratic culture. Indeed, so highly thought of in terms of the quality of their gambling scene, the gambling towns of Mississippi proved a destination point for players throughout the south. One of the major draws to the area, Fleetwood Race Track was built in 1795 Natchez.
Upon the state's 1817 entry into the nation, gambling was already an established part of the social fabric of the state. For the better part of a century, this permissive attitude reigned supreme in the Magnolia State until a conservative backlash stopped the practice in the 1950s.
Federal legislation emerged in 1988 with passage of the Indian Gaming Regulatory Act, which opened the door on regulated gambling in states throughout the nation. Borrowing on their unique status as Sovereign nations, tribes throughout the State of Mississippi pushed for their own licenses in a pattern that soon led to commercialized gambling in Mississippi.
Three decades later, regulated gambling is fully ensconced along the waterways of the Mississippi Delta. The future potentially promises further openings in the regulated online gambling market, so gambling enthusiasts in Mississippi have a great deal to be thankful for along with high hopes that comprehensive online gambling will become a reality in the Magnolia State within the next decade.
References