New Hampshire Poker Laws - Gambling, Betting & Casinos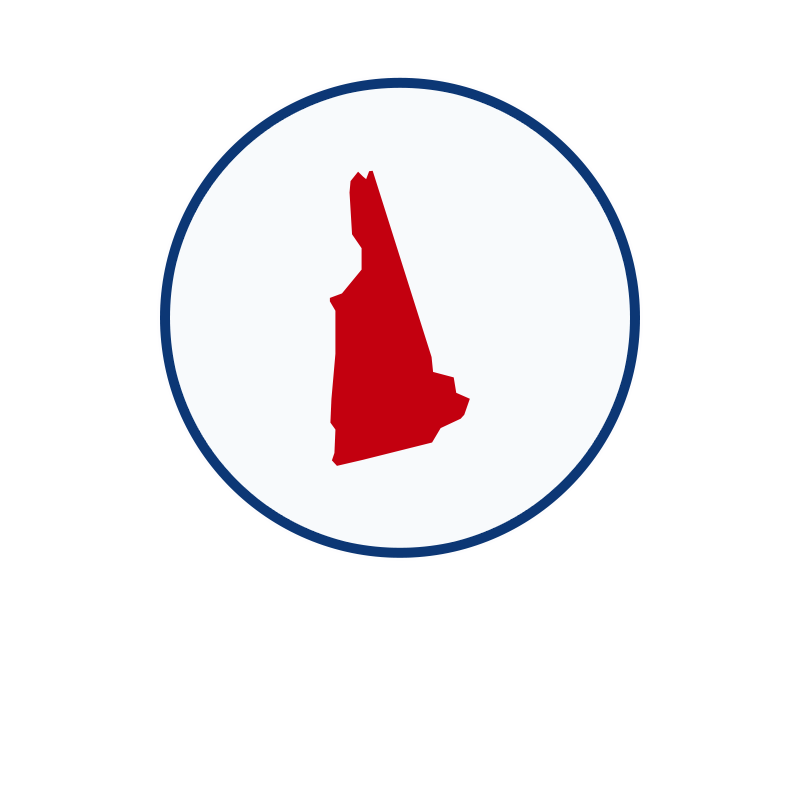 The Granite State's motto, Live Free or Die, falls short of the patriotic hyperbole that the phrase implies when it comes to gambling. Unlike neighboring states, and jurisdictions farther afield, New Hampshire gambling options are limited owing to a cadre of gambling opponents that materialize whenever a gambling bill begins to wend its way through the legislative corridors in Concord.
These opponents, comprised of religious leaders, law enforcement officials, private citizens, tourism experts, and legislators who all point to the social costs and limited financial benefits that would come from an expanded gambling menu in New Hampshire.
Preferring to be defined by its cute hamlets, quaint towns, and breathtaking natural beauty rather than the sordid and seedy casinos they depict in their opposition efforts, these groups have consistently stymied legislative attempts to advance a gambling bill through the state legislature.
As a result, for Granite State residents looking for the chance to play their favorite hand of poker, they may need to hop in the car for a trip across state lines, or consider opening an offshore real money poker account to play from the comfort of their own home.
While a pioneering trailblazer in the introduction of a statewide lottery, New Hampshire was the first in the nation with its 1964 adoption, neither state leaders nor public opinion point to a friendly landscape for immediate implementation of new gambling regulations.
New Hampshire Gambling Laws
Under New Hampshire's legal code the state defines gambling as, "risking something of value upon a future contingent event not under one's control or influence, upon an agreement or understanding that something of value will be received in the event of a certain outcome." The statutes also take a broad view of what constitutes a "gambling machine."
Specifically, the law defines such a device as "anything capable of being used to discharge money or anything that may be exchanged for money, or to display any symbol entitling a person to receive money." Gambling opponents note that dice and cards display symbols, which could be construed under the law's language broadly against all forms of poker.
When it comes to parsing out penalties for running afoul of the state's legal code, size really matters whether or not the offender is charged with a misdemeanor or felony. While someone who "conducts, finances, manages, supervises, directs, or owns all or part of a business and such person knowingly and unlawfully permits gambling on their property" is guilty of a misdemeanor.
Conversely, should those endeavors generate more than $2,000 a day, operate for more than ten days, or take in over $5,000 in wagers over a 30-day period, those charges would be bumped up to a felony in the state of New Hampshire. As with many jurisdictions however, these charges appear to be leveled at the owners and operators of these illicit gambling operations and not the individual player that frequents them.
As of 2017, here is a brief rundown where gamblers legally stand when gaming in New Hampshire:
Casino Games— There is no authorized casino play, either commercial or tribal, within the jurisdicyional lines of New Hampshire.
Sports Betting— pari-mutuel betting is available for live horse and dog races, but there is currently no raced run in the state. Gamblers can place bets at established charitable organizations that offer simulcast racing.
Lottery Betting— New Hampshire was the first state to authorize modern day style lotteries, and the games continue to be popular a half a century later. New Hampshire also participates in multi-state pools like Powerball.
Bingo Games—are sanctioned under the state's charitable gaming laws, which mandate that each event be individually licensed.
Live Poker— There are no casinos or card rooms that offer live poker, and the state does not have a social gambling law to cover low stake games among friends.
Online Casinos and Poker— while not currently legal in Iowa, online casino and poker regulations is not likely to enter the legislative record any time soon.
New Hampshire Online Poker Laws
There are no laws on the books authorizing the regulation of online gambling and poker in the Granite State. At the federal level however, two laws, the Federal Wire Act and the Unlawful Internet Gambling Enforcement Act, have placed a damper on state legislator's efforts to advance online gambling bills.
As a result of the Unlawful Internet Gambling Enforcement Act, which targeted the financial institutions and banks that processed the payments for online wagering, many leading banks and credit cards stopped dealing with American players.
That being said however, there are still offshore, U.S. facing websites that are more than willing to accept applications from New Hampshire players. Additionally, players can comfortably participate owing to the fact that the state exerts no enforcement efforts against individual players.
Indeed, while banks and credit card companies make inviting targets for governmental action, there is no way to track individual gamblers playing from the comfort of their own living rooms.
Is it Legal to Play Poker in New Hampshire?
While it is legal to play poker in New Hampshire, it might be hard locating a game owing to the dearth of legal venues. With tribal and commercial casinos banned under Granit State laws, the player looking for their favorite game of skill will have to haunt their favorite charitable organization for an opportunity.
Under the state's charitable gambling laws, worthy organizations are allowed to hold bingo, raffles, and casino style night for charitable purposes, and present the only regally sanctioned game of poker in the state. Although not sanctioned, the grey area where laws meet technology, the online gambling community is available to New Hampshire residents wishing to place a real money bet on their favorite game of poker.
Unlike most other jurisdictions however, New Hampshire's legal code does not offer a social gambling carve out for casual players to enjoy a night with friends over a low value pot of chips.
Will New Hampshire Regulate Online Poker?
Not only is New Hampshire unwilling to pull the trigger on online gambling regulation, but they seem unwilling to even assemble the rifle that they would need to locate a trigger. Industry experts looking at the New Hampshire gambling landscape would point to the lack of any brick-and-mortar casinos within the state as the first stumbling block to establishing an online regulatory plan for website gambling and poker.
Within the last three years, no fewer than five attempts have been beaten back by gambling opponents looking to keep the Granite State free of gaming influences. The most ambitious of the measures would have authorized the opening of six commercial casinos within the state, but this proposal never saw the light of day once leaving committee. Another measure, still pending, seeks to raise the betting limit of $4 on charitable gambling operations.
While none of these measures have advanced gambling opportunities in the Granite State, they do indicate that there is public will behind the idea of bringing regulated gambling to New Hampshire. That being said however, it is highly unlikely that the state will be in the next tier of states looking at regulation efforts of the online gambling market. In all likelihood, leaders in Concord will probably wait to see what happens in neighboring Massachusetts, which is much closer to branching out into the online gambling world.
Those with an understanding of New Hampshire's position on the subject anticipate that it will be more than five years before they can reliably say that the state would seriously consider adopting an online gambling bill into law.
History of Gambling in New Hampshire
New Hampshire's legislative record is fairly lacking when it comes to approving ambling measures, which is a bit of a surprise considering they were pioneering trailblazers when it came to approving a state-wide lottery in 1964.
Nearly a decade before most other states even thought of that as an option, legislators in Concord put ink to a bill that would provide a lottery option that is still popular to this day. After this groundbreaking legislative move however, the state pulled back on the reigns of regulated gambling. As such, the state lags behind much of the rest of the nation when it comes to offering games of chance and skill.
Gambling first came to the state in 1933 when the legislature passed a bill allowing for pari-mutuel betting. The original law allowed for betting at licensed horse tracks, which saw active service until the state's last horse track closed down in 2012, but race enthusiasts can still place their wagers on simulcast races from other states.
Greyhound racing also received the legislative nod in 1971, which opened up an entirely new venue for racing aficionados, but a cultural backlash against the races, complaints that the care of the animals was substandard, resulted in their eventual decline and stoppage.
In terms of advances in gambling legislation in the Granite State, little has come to fruition in the decades since the 1970s. As mentioned, each legislative session witnesses at least one bill wending its way through the legislative corridors of power, so gambling enthusiasts are hopeful for when the political calculus changes in their favor and casinos make an appearance in New Hampshire.
References