Michigan Poker Laws - Legal Gambling, Betting & Casinos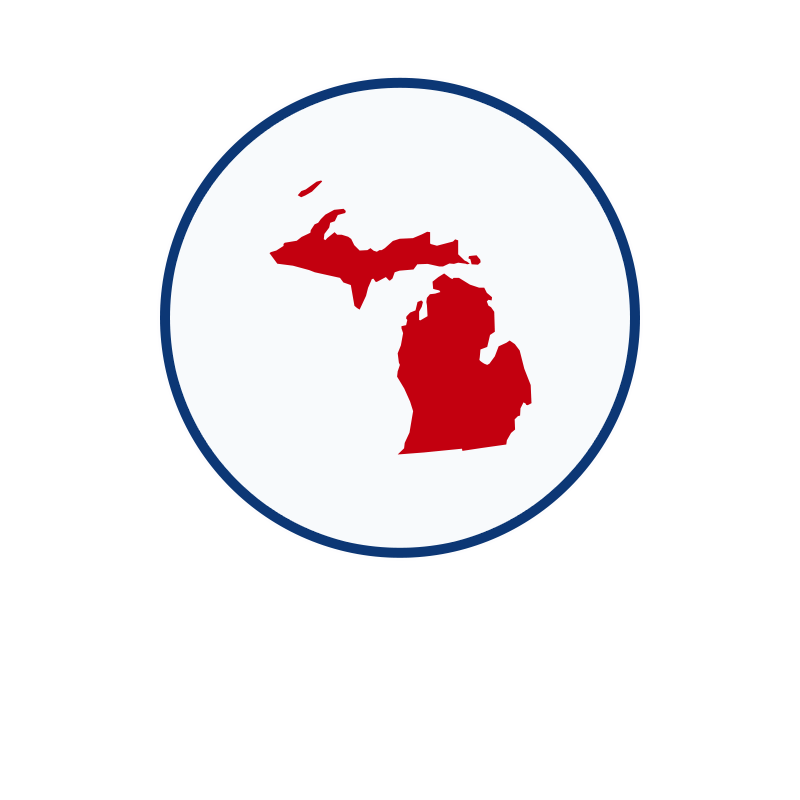 At least on the land-based front, Michigan residents have a wide-range of options when it comes to sanctioned gambling. Gambling is popular in the Wolverine State. Therefore, as it stands, gaming and poker fans have a full complement of legally sanctioned wagering opportunities that include a state run lottery, pari-mutuel betting, tribal, and commercial casinos offering Las Vegas style play with a full array of table games and slot machines available. While the commercial casinos are located in the greater Detroit area, Native American facilities are spread throughout the state.
With these opportunities come heavy penalties for those who stray outside permissible games, however. As with most states, Michigan focuses its enforcement power at the organizers of illegal gaming operations rather than after individual players.
Understanding Michigan poker laws means dipping into a legal code that is rooted in the past and updated to reflect changing technologies and public sentiment. We will explore both the definition and the particulars of Michigan's unique gaming laws before taking a look at what the future holds for the regulated online poker market.
Michigan Gambling Laws
Lansing legislators take a very dim view of illegal gambling, and they are not shy about defining what they view as a "gambling game" played with either dice, cards, equipments and machines to include cashless wagering symptoms and computers for real money. The same legal passage provides an extensive list of prohibited games that include:
Monte
Faro
Keno
Roulette
Bingo
Blackjack
Poker
Baccarat
Slot Machines
In addition to these stalwartly favored games, the law lists more exotic fare like chuck a luck, Chinese chuck a luck, and pai gow among others. Following this expansive list of games, which leaves little to the imagination, the legislation takes pains to point out that outside of legalized, state- sanctioned facilities, and law enforcement officials view the activity as illegal.
Like most states, Michigan reserves the harshest of penalties for those starting and organizing illegal gambling ventures, and operators face significant charges when apprehended. The state has penned at least a half a dozen felony laws against the practice with a few misdemeanors to round out the charging documents.
For those who enter the docket with violations against Michigan's anti-gambling statutes, they are at risk of facing associated racketeering charges. The harshest features of these ant-gambling measures have emerged relatively recently in the 1990s; largely to assuage fears associated with unsavory elements rising in response to the growth of legally licensed commercial casinos during that time period.
Older portions of Michigan's legal code takes aim at participants who get caught frequenting illegal gambling dens with various misdemeanor charges. As an interesting aside, if players do get caught up in an illegal gaming venture by authorities, they had better hope they get caught on a losing night.
According to Section 750.314 of the state's legal code, "players winning less than $50 are subject to a misdemeanor charge, but should their winnings cross that $50 threshold they become susceptible to jail time should the strict wording of the law be followed. While it is still a crime to lose in the State of Michigan when playing at an illegal venue, players don't face jail time, and can even sue the winner and recoup your losses under Michigan legal codes.
While the penalty for playing and running illegal gambling operation can be steep, the proliferation of legal venues makes it unnecessary to cross the legal line in the Wolverine State. In addition to the state licensed commercial and tribal casinos, Michigan law carves out the traditional protections afforded social gambling. In short, as long as nobody stands above the other players in terms of taking a rake or making a profit over and above what they might win while wagering, the practice is legal in Michigan.
Michigan Online Poker Laws
While there are nearly as many sanctioned, land-based casinos in the Wolverine State as there are lakes teeming with fish, Michigan is a desert when it comes to state-regulated online gambling options. Simply stated, while no legal language singles out the Internet in particular, they are mum on the subject of online poke sites.
While players might run afoul of the aforementioned legal penalties pose by winning more than $50, there is no evidence to suggest that authorities have ever pursued and prosecuted individual players. As you can imagine from their strict position on illegal gaming in general however, they are not recalcitrant when it comes to going after Michigan based online platforms.
Jurisdictional issues can be a nightmare of course when trying to track down illegal online poker purveyors, but for those caught there are arrays of felony charges awaiting them in Michigan state courts. Still, for the determined Michigan player, it is relatively easy to access U.S. facing poker sites that are more than willing to accept Wolverines to their virtual tables.
Is it Legal to Play Poker in Michigan?
For the player willing to remain rooted in Terra Firma, as opposed to playing over the vast expanse of the Internet, there are no shortages of legal venues to buy some chips and sit down to the game of your choice. Indeed, the venue provides an estimated 17,000 jobs to the Michigan economy and nobody is talking about limiting these options at any level of the state house in Lansing, Michigan.
With nearly three dozen casinos operating within Michigan's jurisdiction, only three are not situated on Indian lands, and those are all clustered in the greater Detroit area. Operating on a traditional 24/7 schedule, these facilities feature such poker favorites as three card poker, pai gow poker, craps, roulette, blackjack, and more to players over the age of 21.
Each of the 100,000 square foot Detroit casinos complexes are privately owned concerns, catering to a tourist crowd with 400-plus room attached hotels, and under the regulation of the Michigan Gaming Commission.
Native American casinos are dispersed far more widely about the state from Kalamazoo to the Upper Peninsula. Generally open 24-hours a day, these facilities offer Caribbean stud poker, three card poker, as well as other table games like blackjack, craps, roulette, slots, and video play with Keno and bingo as options.
Will Michigan Regulate Online Poker?
Michigan has been relatively silent in the national conversation regarding the regulating of online gaming sites. Indeed, rather than wolverine howls, the only sounds coming from Michigan are the sounds of crickets on the topic.
Rumbling in the legislative chambers however, signs are suggestive that at least the members of one state committee are amiable to the idea of regulated online gambling. The Lawful Internet Gaming Act sailed through the Michigan State Regulatory Reform Committee, which is not surprising considering six of the nine members on the committee were co-sponsors of the bill that would regulate a myriad of online gambling play including online poker.
One of the more interesting passages in the impending legislation is a provision for the operators of any online site also offer online poker options as well. Under the bill's wording, only land-based casinos in Michigan will be eligible for licensing and allowed for interstate compacts between other authorized jurisdictions. Before anyone gets too excited however, a similar bill passed that same committee last year without either house picking it up for consideration in the legislative session.
Like most states, Michigan is sitting on the fence as regards the online gaming regulation, and probably the only thing that will push them off the fence will be the performance of states like New Jersey, Delaware, and Nevada that have made the move to online gaming. What we do know is that Michigan is unlikely to lead the charge for adopting online gambling regulations.
History of Gambling in Michigan
Horse Racing has been legal in Michigan since the days of Franklin Delano Roosevelt. Authorized under the Racing Act of 1933, racing enthusiasts can attend races at Northville Downs and Hazel Park Raceway. Additionally, pari-mutuel betting was similarly offered for Michigan bettors
Following these developments however, it would be another four decades before the state moved towards further authorization of gaming expansion. In 1972, state voters approved a amendment to the state's constitution, by 2-to-1 margins which authorized the formation of a state lottery that was further expanded to include participation in a multi-state drawing with Illinois, Michigan, Virginia, and Massachusetts.
Concomitant with expansion of the state lottery, Indian casinos began their march to national prominence in the aftermath of the 1988 federal passage of the Indian Gaming Regulatory Act, which saw the inexorable growth of Indian casinos across the state. Undoubtedly, any push for regulation of the online gambling market
Seeing the success of Michigan based Native American casinos, voters turned out in November 1996 to pass ballot Proposal E, which called for the authorization of up to three commercial casinos in any Michigan city that meet the following three point criteria:
A population of 800,000
Located within 100 miles of any other state or country where gaming is legal
Casino complexes approved by majority of voters in each jurisdiction
As mentioned, all three existing commercial casinos are located in the greater Detroit area. Detroit's size and physical proximity to legalized poker in Canada fulfills the first two conditions of Proposal E, while a downturn in the economic fortunes of Detroit convinced a majority of its citizen to approve the casino expansion.
References