Montana Poker Laws - Gambling, Betting & Casinos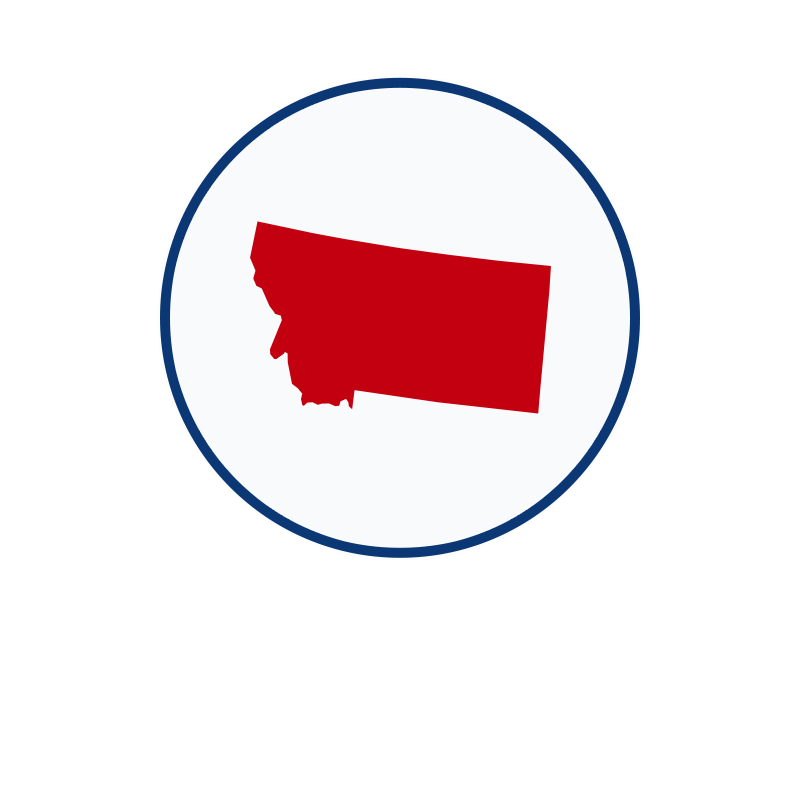 When it comes to their mindset regarding gambling, residents of the Big Sky State have equally expansive opinions on gaming, which makes Montana one of the most lenient states in the nation regarding their gambling legislation. Indeed, while most jurisdictions address these issues within their state criminal code, legislators in Helena have placed the topic under the section entitled, Parks, Recreations, Sports, and Gambling."
Noting that the role of the state was to regulate gambling as opposed to controlling the practice, the legislative intent is to, "ensure the proper gambling environment in the state it is necessary and desirable to adopt a public policy regarding gambling activities in the Great State of Montana."
Perhaps like an overly permissive parent, when Montana residents stray outside the approved gambling venues established by the state, criminal penalties do apply. Like most states however, enforcement efforts target the organizers and operators of illegal gambling enterprises rather than going after individual players. As mentioned, the sheer number of legal gambling venues means that Montana based gamblers don't need to travel over the legal line to enjoy their favorite game of poker.
What are the Gambling Laws in Montana?
Within the confines of Montana's legal code, there is an array of legal gambling options available. These include the state run lottery, Indian style casinos that offer all the excitement of a Las Vegas, Nevada or Atlantic City, New Jersey for clamorous slots and table game fun.
Additionally, the state allows pari-mutuel wagering on racing events, and is only one of four states to avoid the requirements of the Professional and Amateur Sports Protection Act. Under that legislation, the federal law blocks state governments from allowing wagering on professional or college sports teams. Specifically, "It shall be unlawful for any governmental entity to sponsor, operate, advertise, or promote gambling on one or more competitive games in which amateur or professional athletes participate." Along with Oregon, Nevada, Delaware, Montana was grandfathered in owing to their preexisting legislation regarding the topic.
Legal forms of gambling that allow for real money play include:
Raffles
Bingo
Poker
Keno
Fantasy Sports Leagues
Video Gambling Machines
Sports Betting
Just about every form of organized gambling is available to residents and visitors as long as they conform to a scenario designed to ensure a safe gambling environment. Montana defines gambling as risking any money, credit, deposit, check, property, or any other thing of value for gain that is contingent in whole or in part upon lot, chance, or the operation of a gambling device or gambling enterprise.
Additionally, the state allows for social gambling within its jurisdiction with the typical rules in place found in other states. Namely, the games are considered legal as long as no one player stands above the others in terms of being able to profit from the game. In other words, the host or organizer cannot charge a fee for attending, nor are they allowed to take a rake off the top of the pot. Finally, the law carves out a place for charitable bingo, keno, and casino nights, which offer live poker action.
Montana Online Poker Laws
While the Montana legal code is highly flexible when it comes to standard, brick-and-mortar gambling establishments, they have adopted a stricter stance on gaming activity over the Internet. In fact, whereas most state's legal codes fail to mention the Internet at all in regards to gambling, the Big Sky State has carved out a definition that addresses Internet gambling play:
"Internet gambling, by whatever name known, includes but is not limited to the conduct of any legal or illegal gambling enterprise through the use of communications technology that allows a person using money, credit cards, debit cards, or any other instrumentality to transmit to computer information to assist in the placing of a bet or wager."
Since state leaders have not moved to regulate online gambling and poker play, the practice is strictly speaking under the state's legal codes. That being said however, enforcement is directed at the owners and operators of online websites rather than individual players.
In terms of offshore, U.S. facing websites, the state has no means to enforce their legal strictures, so Montana online poker players are able to routinely get online, submit an application, and be playing their favorite poker game within minutes without fear of governmental prosecution.
In the realm where gambling and internet technology combine, the State of Montana has not yet established a framework under which they can regulate this technological platform.
Is it Legal to Play Poker in Montana?
Even the most casual reading of Montana's legislative code reveals that it is legal to play poker in the Big Sky State under the properly regulated venue. Specifically, Montanans can find their favorite game of draw, stud, or Texas Hold 'em style poker at any of the state's 300 casinos that are licensed to offer real money poker games.
While live poker action came on the back of legalized Indian gambling in Montana, in the aftermath of the United States Congress passing landmark federal legislation in 1988, the Indian Gaming Regulatory Act, the law was critical in opening the floodgates of state sanctioned poker in Montana and across the nation.
For regulatory purposes, the federal government recognizes three separate classes of Indian gaming:
Class I—gaming is associated with tribal celebrations and ceremonial events such as pow wows and Potlatches. In terms of regulatory efforts, federal authorities do not pay much attention to these games.
Class II—games include bingo, poker, and lottery-style pull-tabs. Class II games are frequently used and offered for charitable purposes.
Class III—are the true revenue generators for casinos featuring games that rival the excitement of such gambling Mecca like Atlantic City and Las Vegas. These casino games include a myriad of options including roulette, slot machines, horse racing, blackjack, baccarat, and live poker.
Montana operates Class II and III, so clearly, the proliferation of Indian casinos in Montana makes finding a game relatively easy. Unfortunately, a recent spate of card room closures in 2016 suggests that the players might be reaching their saturation point. Others disagree, however.
Card room operators report that they rely on a core group of poker players, but those gamblers are being lured away from real money live poker games for the ease on playing online. What this portends for the state in regards to their move towards regulated online gambling remains to be seen.
Will Montana Regulate Online Poker?
Very few industry watchers expect Montana to join the next tier of states to legalize the regulation of online gambling and poker. While there certainly seems to be a modicum of public interest, not the aforementioned brick-and-mortar closures, but little of that translates into political will with the state legislature.
In addition to governmental inertia and casino opposition, the state's small population, a mere hair over the million resident marks, means that the Montana would need to enter into interstate compacts with other jurisdictions to ensure an adequate player pool. At this point however, no one has pushed the conversation even this far within the state.
In fact, was one to examine the legislative record in Helena for evidence of recent gambling legislation, the products of that search will undoubtedly yield only cobwebs rather than active attempts to legalize online gaming. That could change with shifting economic fortunes.
Montana's leadership has proven that they are not recalcitrant when it comes to filling state coffers with gambling related revenue, so should the economic calculus change to suggest that that would be a profitable move, we might see legislation moved through the legislative corridors of power in Helena.
For now, experts posit that the state will wait to jump on the online regulation bandwagon until after the federal government moves to regulate the entire sector. As such, rather than expecting a move in the next year or two, players can probably expect to wait five to ten years before the Big Sky State joins Nevada, New Jersey, and Delaware in the offering of regulated online gambling.
History of Gambling in Montana
Like most frontier states built on cattle ranching, logging, and mining activity, gambling was an early form of entertainment in the rough hewn towns and camps of early Montana. As a cultural institution, gambling remained a pervasive force n the state regardless of the laws emanating from the capital. A broad view of the history of gambling in Montana is evocative of a pendulum swinging back and forth on the gambling question.
The state began with an outright ban against gambling in its 1889 constitution that paved its entry into the United States. Admittedly, early residents viewed the prohibition more as a suggestion than an iron-clad law, and authorities spent several decades trying to eradicate illicit games.
In response to the economic pressures of the Great Depression, the state legislature passed the Hickey Act allowed for the legalization of card games on a county-by-county basis. Saloons, which were recently reopened with the ending of Prohibition, began sneaking in illegal slot machines that prompted another governmental crackdown.
Voters took matters into their own hands in 1972 by approving a referendum that opened the door for charitable gambling games in the Big Sky State. Montana voters gave thumbs up to a state lottery in 1986, and native tribes began negotiating compacts with the state government by the mid-1990s. Today, five tribes are operating tribal casinos within Montana's jurisdictional borders.
References