Idaho Gambling Laws - Legal Poker, Betting & Casinos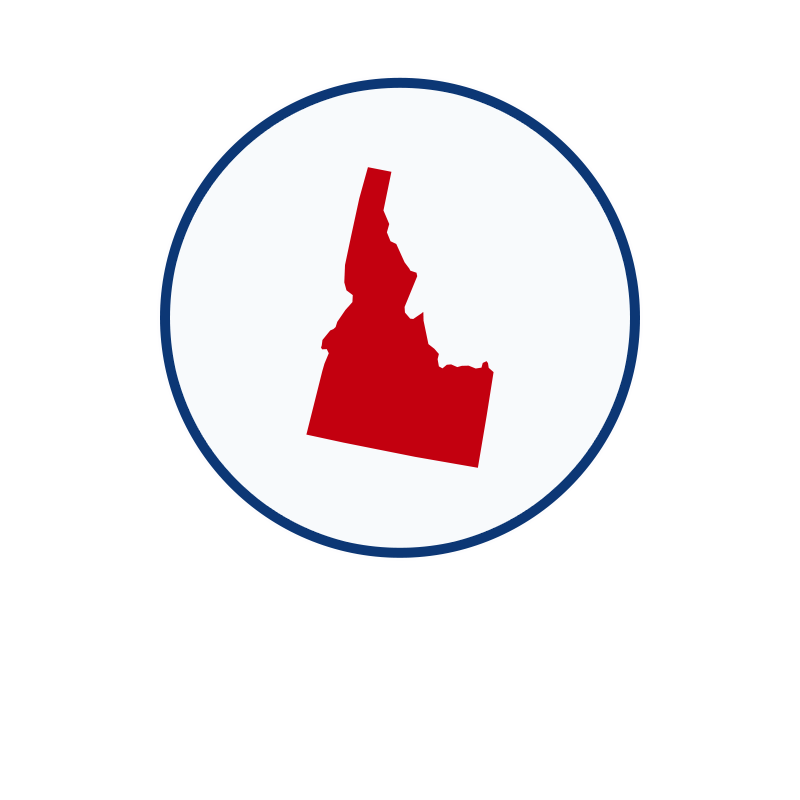 One of the most culturally and politically reddest states in the nation, Idaho has a mixed record when it comes to flirting with legalized sanctioned gaming of any type. While the state experienced a long period beginning with their 1890 admission where poker and other games of chance proved extremely popular, a crackdown in the 1950s has turned Idaho into a wasteland when it comes to gambling options. For those looking at a current state of the gambling environment in the Gem State, the following is a breakdown of what is allowed and what the future holds for the developing
Idaho Gambling Laws
Upon admission to the United States as the 43rd state, the newest state's constitution dealt with the gambling question succinctly in the negative. The 1890 document noted on the subject that there would be "no lottery or gift enterprise."
More than a century later however, most Idahoans have ready access to an array of gaming options ranging from a regulated state lottery to tribal casinos offering table games and traditional slot games. It would be mistake to think that Idaho is an open state on the gambling front because the issue is still being battled in the courts a number of fronts including tribal poker and online game play,
As of 2017, here is a brief rundown where gamblers legally stand when gaming in Idaho:
Casino Games—Tribal casinos began operation in 2002 and offer an array of slot-machines for players to enjoy, but efforts to open Texas Hold "em style poker card rooms in their existing facilities stumbled against legal challenges in court.
Sports Betting—Horse racing has been legal in Idaho for more than half a century, but tribal casinos and the state lottery has taken a bite out of the industry's popularity and profitability, which led to passage of 2013 legislation authorizing "Instant Horse Racing", is a slot-machine like device that is under legal challenges by the Coeur d'Alene Tribe.
Lottery Betting—dates back to a 1988 initiative authorizing amending the state constitution to allow for establishment of a lottery commission to regulate what is now a more than $150 million dollar industry. In addition to scratchers and instant play, the lottery now participates in multi-state, multi-million dollar Powerball.
Bingo Games—are allowed for charitable fundraising purposes in the Gem State when played in conformance with existing legislation.
Live Poker—is expressly prohibited under Idaho's legal codes. There are no sanctioned card games within the state, and even social poker games are not allowed.
Online Casinos and Poker—is not specifically targeted or prohibited under the provisions of Idaho's legal codes, so a grey area exists, as in many states, that advocates leverage to advance the idea of regulating the online casino and poker market.
Idaho Online Poker Laws
Idaho is unique in that it is the only jurisdiction within the country that specifically lists poker as prohibited activity. Under the state's constitution Section 20 (2), the supreme law of the land bans craps, blackjack, roulette, keno, slot machines, and poker as illegal. Such specificity does not seem to bode well for the growth of a regulated online poker market, but certain aspects suggest that the door is not entirely closed on the subject.
To begin with, like just about every other state in the nation, Idaho has no specific wording in its legal statutes that specifically addresses the online gambling question. Of course, the same cannot be said of the federal government, so it makes sense to square what they know about federal statutes and applicable state laws.
Under the Federal 2006 Unlawful Internet Gambling Enforcement Act, the law "prohibits gambling businesses from knowingly accepting payments in connection with the participation of another person in a bet or wager that involves the use of the internet and that is unlawful under nay federal or state law."
This leaves the Idahoan with a desire to play poker a few legal loopholes that other poker aficionados utilize for legal play throughout the country. Simply stated, enforcement efforts are universally aimed at the operators of poker websites rather than the individual player.
In response to the United States government's move against online gaming, most public online poker sites listed on the London Stock Exchange stopped accepting payment from U.S. players, but privately held companies readily accept money from off shore safe havens that is outside the reach of the United States federal government.
Is it Legal to Play Poker in Idaho?
By any legal stretch of the imagination, it would be difficult to articulate an argument suggestive of poker's legality in the Gem State. As mentioned, Idaho is the only jurisdiction within the country that specifically lists poker as prohibited activity, so it would seem a straightforward proposition that poker is illegal.
That being said however, as mentioned, tribal casinos have been in operation since 2002 and they have been trying to pry the door open further with Texas Hold 'em-style poker card rooms that would open in their existing casinos and facilities. Legal challenges, as late as 2015, struck down tribal efforts in a ruling of the 9th-circuit court that determined the tribe's plans conflicted with the state's anti-poker statues.
For now, players can also access the Idaho state's lottery site that offers a poker-style game with the exhortation, "Do you like high-stakes poker or the excitement of Blackjack? If you do, then you will love our poker-style scratch games."
Will Idaho Regulate Online Poker?
Taking the temperature of the Gem State would suggest that it would be a long wait before the political leadership moves to regulate online poker play. Without the political will or the public clamor for some form of legalization, it is unlikely that the state will end the longstanding opposition to entertaining games of chance or skill whether in a live format or an online platform.
History of Gambling in Idaho
The turn of the 20th-century witnessed a proliferation of gambling houses throughout the towns, cities, and mining camps of early Idaho settlement. Managed by local municipalities rather than state officials, the norm in early Idaho gambling history was for small clubs and casinos offering an array of classic gambling options like craps, roulette, and poker games. Extremely popular, these outlets flourished until the 1950s when state leaders began taking a hard line against gambling that has not changed to this day.
References